Sending emails is a key part of the PR process, so if you're having trouble sending them, it can be a frustrating experience. This section should help you to identify and solve the issues.
How to Tell if Your Emails are Being Sent:
The most sure-fire way to know if your emails were sent from the platform is to go to your personal email client (i.e. login to Gmail or Outlook directly, where your day-to-day emails live) and check your Sent Emails folder or Outbox.
Because all emails sent from the platform are sent through personal email accounts, any successfully sent emails will appear there. If the email doesn't appear there, you can be sure that the email didn't send.
My Email Wasn't Sent - What Do I Do
Wait a Few Minutes - Emails are Sent On Delay
"Sent" emails are first added to a Queue and sent over 3-minute intervals. This maximizes deliverability of your emails sent from the platform.
So the first thing to do is wait 2-5 minutes, recheck your Sent Emails folder / Outbox and check again.
Check if Your Email Account is Properly Connected / Email Statuses
If your emails still are not being sent, navigate to Settings > Connect Email Account.
Here you can see your email account status.
Running: This generally means that the account is properly connected, but we've seen cases where the account is marked as "Running" but still experiencing difficulties.
Partial: This means that the platform is in the process of connecting to your email account. You generally just need to wait 1-2 minutes for it to finish connecting.
Disconnected / Stopped / Other: There is a connectivity issue between the platform and your email account. You should reset your connection using one of the two methods outlined below.
2 Ways to Reset Your Email's Connection to the IR Platform
Method 1: Reconnect the email account to the platform by clicking the "Re-connect email" button.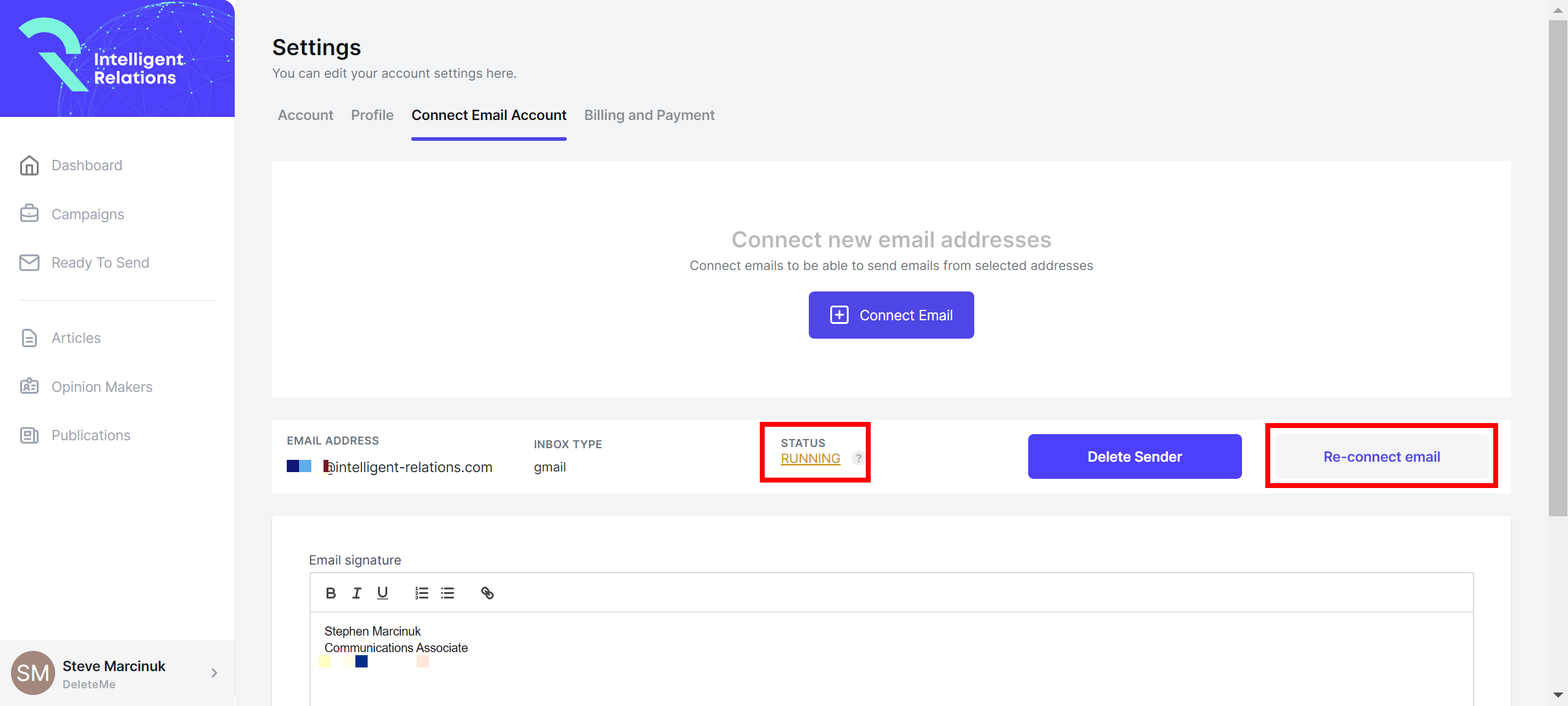 Try sending another email. See if the email sent using the method above. If the email still didn't send:
Method 2: Delete the Sender and then re-connect the email account to the platform.
Note: When you delete sender, and re-create it, all previous sends will not be sent. Because the email is no longer connected to any sender (the record was deleted).
Still Having Trouble?

Send an email to Support@intelligentrelations.com and we'll work with you to resolve the issue.